The Cupcakes were very honoured to be invited to perform at the evening reception of Louise and Derek Mulvey.
It makes a gig even easier when it is in beautiful surroundings such as the Millenium Hotel in George Square, Glasgow.
The bride and groom thoroughly enjoyed their day and we even got the bride and some of her guests up to join us on the dance floor for a Cupcake Stroll!
A stroll around Glasgow would have had you confused though, you would have sworn you were in the U.S... Philadelphia to be exact.
You can just make out some of the American street furniture for the World War Z movie!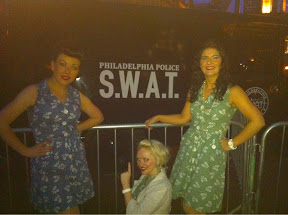 Boss Lisa, Cupcake Jules and Cupcake Carol were clearly moonlighting as a SWAT team!
Brad did phone to meet up, but we never double book ourselves so we had to politely decline... Maybe another time Mr Pitt, we Cupcakes, are busy gals!
Toodle Pip,
Cupcake Linz
x
p.s. be sure to check back in with the blog this week as we report on our 3 other gigs from this weekend, yes 4 gigs in total... A Cupcake Marathon!
Tea dance at Celtic Park, Kirkintilloch Canal Festival and The Corinthian's 1st Birthday!