Cupcake Thursday's have been taking quite the ecological slant thanks to Mimi and Kat.
The past 3 rehearsals have turned into a Clothes Swap Shop.
We have found that one Cupcake's trash, is definitely anothers treasure! (we have also found that Mimi buys A LOT of trousers and never wears them... Price tags still on them and all).
Here is Lynne in just one of the dresses she blagged from the haul.
Jules showing off a very glamorous blouse!
Cupcake Lisa and myself also went to a special sale recently held by a Glasgow theatre company who were clearing out their wardrobe department! I got 2 fabby vintage dresses for under £10, what a bargain I hear you say, however Lisa's choice leaves a lot to be desired...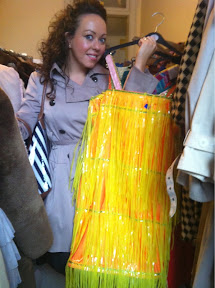 I think she's hoping to wear it to her Tiki birthday party tomorrow!
So we would like to be known as the Most Eco Friendly Dance Troupe.
We share clothes.
We love reusing and recycling vintage clothes.
We always car share.
And I'm pretty sure Lisa washes the costumes at 30 degrees too!
So girlies (and guys) if you have clothes gathering dust in your wardrobe, don't throw them out, throw a party and swap clothes with your friends. You'll have a smashing night and update your wardrobe at the same time. Go on, do your bit for the environment and have a Cupcake style Swap Shop.
Toodle Pip,
Cupcake Linz
x